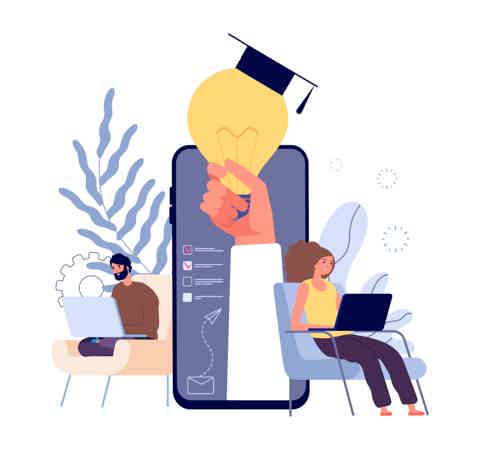 Language is the road map of a culture. It tells you where its people come from and where they are going.
"Language is the road map of a culture. It tells you where its people come from and where they are going."

When it comes to education, there are usually a lot of different opinions. Where should we learn? How should we learn? What should we be learning? These questions often lead to various explanations and philosophies on education and often affect the quality of education.
Education is an important part of life and exposes you to new opportunities. For instance, learning new languages helps you become a better communicator and boosts your brainpower. Kansai Fixer's blog (we could add the link to the blog here - the education category) focuses on two distinct categories: teaching students and teaching teachers/educators.
This article emphasizes self-education, how teachers can enable their students to learn better, and Kansai Fixer's philosophy on education.

There are affiliated links included in the article that will help you in your learning journey.
1. Teaching Students
At different stages in life, we need new information. Sometimes it's difficult to get exactly what you need, leading to many complications. This section will focus on teaching students who are into self-education and guide them to make the best choices while learning.
To begin your learning journey, you have to be determined to learn, no matter the challenges you might face. Learning something new isn't always an easy ride, and your determination will keep you on course when it gets difficult.
People have different reasons for learning; some of them include:
● To gain new skills e.g., Language skills
● To make a career change (Career sites can be added here as affiliate links)
● To enjoy the thrill that comes with learning new things and self-improvement.
These reasons — and even more — are valid and form the motivation for self-education.
Over the years, the traditional learning method has been used in institutions. Usually, an instructor passes information to students in a classroom setting. However, one major downside of this method is that learners have little or no control over a class. Even if it is a private one-on-one lesson, it's almost impossible to have any say in the learning process.
On the other hand, self-education is more specific and beneficial; you have more control over your lessons and move at your own pace. Kansai Fixer promotes the concept of the teacher as a guide and not a leader; every learner has an active role to play in their self-education journey. One major challenge of the self-education process is finding the right resources and websites. Kansai Fixer understands this challenge and guides learners towards valuable and interesting materials.
2. Teaching Teachers and Educators
In the past, many teachers learned using the traditional learning method and, in turn, went on to teach their students in the same way. For new results, we need to try new methods.
Kansai Fixer teaches future and current educators on teaching pedagogy and methodology. We strongly believe that teachers have to demand more from technology, tools, the educational environment, and administrative systems. This enables educators to guide students effectively according to each teacher's pedagogic beliefs. Rather than trying to alter one's beliefs to fit a given model, an educator should be trying to alter the system.
Technology has made it even easier for us to be better teachers in this age. However, when you think of technology in education, you need to understand that it isn't all about gadgets and technicalities. It is more about creating the most conducive learning environment for your students.
For better results, teachers need to stop thinking about what the technology does and think more about what they want it to do in their teaching and education.
When choosing certain websites or technical help education, there are some factors to consider:
● The point and purpose of your teaching
● The classroom conditions
● The outcome that you expect from the students
Your teaching model should be the motivating factor for why technology helps you with a task; you control technology. As a teacher, you should teach your students, especially students in universities of education, to do better and avoid making the same mistakes as you. This is what promotes healthy learning.
What Educational Platforms Are Available to You?
Even though the internet is popular now, there is no "perfect world" in the educational system. This is because it is not just about introducing the technology to make it a more effective classroom or a better educational system. Instead, you need technology to solve specific problems to make your classroom a success. For instance, as a teacher in the university system, you usually start with one of these platforms for teaching: Web CT, Blackboard, and Moodle. These content management systems (CMS) help you connect with your students.
Unfortunately, these systems limit the activities you can carry out with your students. So, it is essential for you to always remember your objectives and goals when choosing technology for education. Ask yourself, "what do I want this technology to do?" before making your choice.
A Personal Framework Is Important
Every educator should have a personal framework that guides them. The idea is that you should be teaching what you test and testing what you teach. So, your expectation from your class and the assessment of the students should be the things you teach them.
Once again, it is essential to focus on the objectives, purposes, and goals, and not the technology (for now).
As an educator, you should have a personal framework that encompasses the following:
● Continuously question the efficacy of what you do.
● Define the boundaries of your framework.
● Be open to change and growth.
Kansai Fixer's Personalized English Education
In addition to free videos from Kansai Fixer's YouTube channel, you will get exclusive access to additional videos, interactive sessions, and one-to-one guidance sessions that fit into your schedule.
Additionally, Kansai Fixer's Personalized English Education provides students with live coaching sessions individually or in private groups of streaming discussions. Furthermore, members will be automatically enrolled in giveaways, take part in special offers, and travel experiences that only come with guided Kansai Fixer support.
With the Personalized English Education, you have a fully customized Personal English Communication Guide that will attend to your learning needs.
We will keep you motivated and progressing forward in using English communication to achieve whatever goals you may have in life. Furthermore, you can start learning to use your English in your preferred way and at your own pace and time. Isn't that great?
For education on languages like Japanese, Mandarin, Korean, Spanish, etc., we provide various resources and guidance.
Conclusion
Kansai Fixer focuses on teaching students and educators. We help students as they navigate their self-education journey. Also, we ensure teachers see themselves as guides for their students, not leaders who dictate what the students should do.
When you have questions, Kansai Fixer is there to help lead you along the way.
You can contact us in English, Japanese, or Chinese. We are happy to answer any questions you may have and assist you in getting started as soon as possible.